If you are watching the IPL tournament, I am sure you would have come across the recent ad campaign for CarDekho which features Rahul Dravid. The ad is very quick and direct but is it as effective as it should be? Does it make us, the audience, excited enough to want to make a car purchase? A question we ask because the amount of money spent just during IPL for advertisements is upwards of Rs. 1100cr. Are these ads impactful? Is the money spend by these companies justified? Let us analyze.
One of the crucial requirements for any ad to be effective is to bring out the right emotions in the audience's heart and mind. This helps the audience to connect emotionally to the brand, and hence not forget it for long, or even become brand endorsers if they feel a strong connection. This ad fails to evoke any emotions in the audience. In fact, the ad does not even bring out the cricketer in his natural self. Let's take a look at what could be better for this Ad to be more effective.
Smile
A simple relaxed smile can immediately make connections with the audience. Most good models trained for posing in front of the camera can bring out a smile that closely resembles that of genuine happiness. For another model who is not a professional actor, it is the task of the ad execution team to ensure that a mood is created so that the model can relax and smile into the camera. Even if the smile is social, at least it makes the model look relaxed. The lack of a smile makes this Ad look too serious.
Eyebrows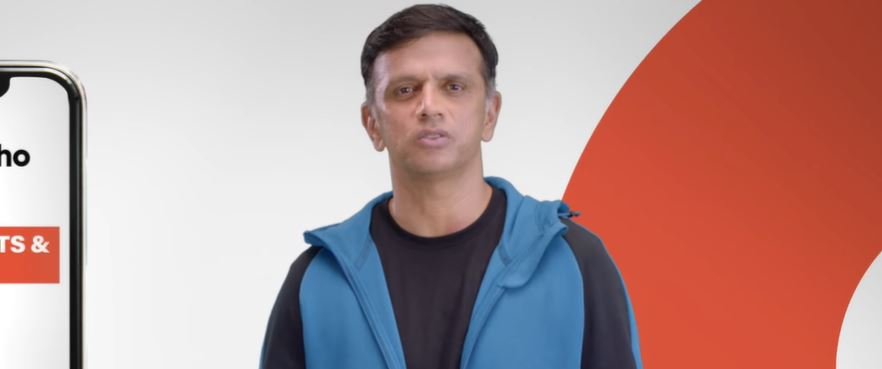 One effective way of showing excitement for a topic one is discussing is to actively raise eyebrows up and down while speaking. This happens naturally for a lot of us, for others, with proper training it can be achieved. The use of good body language can elevate the enthusiasm of the model endorsing the product. Even with the television muted, the excitement of the model should come across to the audience. And this does not really require him to be unnaturally animated.
Hands

Hand gestures, when used during a conversation, can make whatever you are communicating a lot easier to explain. We see Rahul make a weak attempt at using hand gestures. How so? Observe the level at which Rahul Dravid's hands are gesturing. When hands gesture at any level below the abdomen, it indicates that the speaker is not very confident. And can leave an audience unimpressed.

Here is Rahul Dravid giving a formal speech on some other occasion. There is a marked difference in the way he is delivering his message. All the above points that we mentioned as lacking in the CarDekho Ad are being used correctly by him. This means that naturally, he is pretty good at his style of communication. So what goes wrong when he is asked to shoot for an Ad? It is up to the direction team to ensure that a model's natural style at least is brought out in the shoot.
These are just a few and very simple things that could be tweaked very easily.
We again wanted to reiterate the amount being spent by Ads. If only a little more effort was spent in the actual ad execution, the effectiveness of the Ad could be very different.
InsideSport has compiled the list of the Top 5 Biggest Spending brands in the IPL 2020. These 5 big spenders will be investing more than 1100 Crore on various assets of IPL 2020.
– Dream11 – 500 Cr
– Byju's – 150 – 160 Cr
– Amazon – 120 – 130 Cr
– PhonePe – 120 – 130 Cr
– Voda Idea – 120 – 130 Cr
We see more and more sports stars being used to endorse different brands. In (IPL 12) 47% of ads were advertised during the IPL season, 12 were celebrity endorsements while the remaining 53% were non-celebrity. Out of this, Aamir Khan topped the table with a 15% share of celebrity-endorsed ads followed by the sports duo Virat Kohli and MSDhoni with a 10% share, each. Interestingly, MS Dhoni endorsed the maximum number of advertisers, followed by Virat Kohli.
Therefore, as there is more and more celebrity endorsement, not all of whom are professional actors, the brand managers need to be sure that the body language of models is communicating the right message.
About Simply Body Talk: As a company, we have worked with ad agencies to sharpen the effectiveness of the ad messages. To know more about how we work with media agencies, you can read here.
Images courtsey: CarDekho, Chennai SuperKings