Anushka And Virat's Relationship Analysed
As appeared in PinkVilla on April 6, 2016
Anushka Sharma and Virat Kohli's romantic relationship seemed dreamy and fairy-tale like, when it was ongoing. However, the two left fans heart-broken when they called off this relationship and went their separate ways. While we are left wondering what caused this lovely affair to break off abruptly, Body language expert Khyati Bhatt has come up with a possible analysis of the Anushka-Virat relationship and why it might have gone wrong!
The article is extremely interesting with lots of facts supporting her argument. Read on and let us know your thoughts!
Why Did Kohli Keep Holding Onto His Ladylove?
You would have probably seen a lot of pictures like this where Kohli was trying to shield Anushka from the eyes of the public. We generally like to hold onto the things or people we care for, especially in a  hostile territory. With pictures being clicked, Kohli seemed to be feeling this need to protect his ladylove. The question is, did Anushka like this protective side of Kohli or did he go overboard?
Was Kohli Threatened By The Media?
Anushka, being an actress, is obviously used to a lot of attention from the media, can take the flashing of lights and clicking of pictures with her head held high. Not so much for Kohli though, who was seen to be looking downwards, many a time, in most of his appearances with Anushka. However, Kohli is no stranger to fame and clickety clicks. So, did he dislike all the attention or did he just feel conscious to be displaying his personal life in public?
Was Kohli The Dominant of the Two?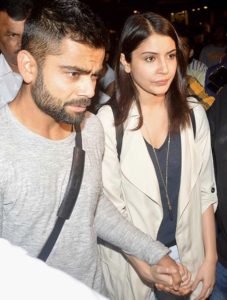 It is usually the dominant partner in a relationship who likes to hold the hand in a palms down position when locking hands with a partner. Alternatively, this feeling of dominance could be limited to a certain situation. In this particular picture, the questioning look on Kohli's face speaks volumes about how he was not happy with whatever situation he was facing.
Did Kohli Feel Underconfident in Anushka's Presence?
If you pay close attention, this picture reveals a lot. Perhaps Kohli did not realize but he is seen tilting into the frame to be clicked together with Anushka. Did he lose confidence and consider himself any less of a celeb than her? Probably!
Why Was Anushka So Conscious To Be Clicked In Public With Kohli?
In most of the pics of the couple, Anushka is seen displaying an evident lip-purse pose, in which one presses both lips together very tightly. This could be either because she was trying to suppress her feeling of annoyance at the media for being clicked with Kohli Or the thought that Kohli was once again in front of her, trying to shield her, annoyed Anushka. The slight bending down of eyebrows and the tensed facial muscles confirm that she was definitely not pleased, whatever be the reason.
Conclusion
Though it is not possible to know almost everything about a couple's personal life merely from the public appearances, the way they are clicked together does reveal a lot about the feelings in their subconscious. While not drawing a definite conclusion, it is evident from the pics that Kohli was protective of Anushka and she was aware of the fact. Maybe this just went too far and thus they had to break from each other.
Written by,
Khyati Bhatt
This lock down period, get exciting offers on our webinars to know more visit link here