Koffee With Karan Season 5 – Special Body Language Edition
Someone asked me today why I analyse Koffee with Karan episodes so religiously. One, we all connect with it, so it is easy for me to help you relate to the subject of body language. Two, the creators of the series claim to be paying specific attention to body language. But they talk only of broad observations of others' body language. It is my hope to prove that this subject is as detailed as any other. Although observation is intuitive, we all miss out on details, unless we make special efforts to learn the subject well.
Episode 5: Parineeti Chopra and Aditya Roy Kapoor
Parineeti Chopra swears she would be alert in interviews and not let people read her through her facial expressions and body language. She misses the point. Her hair touching, foot tapping and ring fiddling are as good cues as expressions. Minor behaviors signal true intent even better than larger ones since we really don't pay attention to them.
PC IndianExpress
Episode 4: Ranbir Kapoor and Ranveer Singh
Surely you noticed that the camera zoomed in to show only the upper bodies? Else you might have noticed the feet jiggling of Ranveer when Ranbir was praising his relation with this elephant. Notice how he was shaking only so slightly during that tiny bit of the entire episode? Feet jiggling is an interesting behaviour even interviewers notice on candidates. Though it happens under the table, the shaking of the upper body is a giveaway. Reason? Any psychological discomfort can cause this. Was Ranveer wanting the moment to pass away, or holding his breath in anxiety or just plain refraining himself from a slip of tongue? We would never know that easily! But we notice that the calm and collected boy lost his composure just for a few seconds.
PC: Firstpost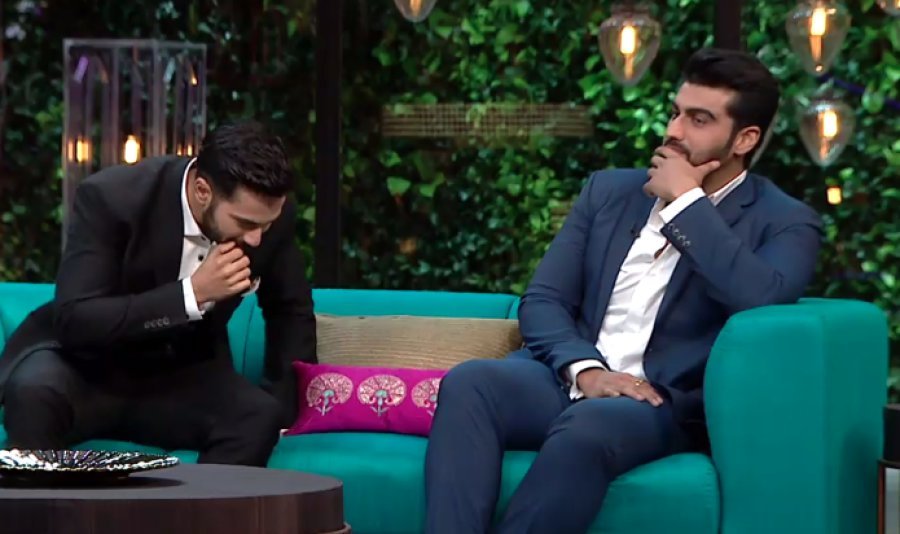 Episode 3: Arjun Kapoor and Varun Dhawan
Noticed how  Arjun Kapoor looked much cooler than Varun Dhawan? Answers were one thing. What about composure, especially during stress? Observe how #VarunDhawan shifts to edge of the sofa in Rapid Fire round. The stress was making him edgy, literally. During our times of stress, the limbic brain kicks in, ready to freeze, flight or fight. Here we see his brain making him ready for defence. Actors can fake a lot of confident body language. The trick is to know the genuine from the fake!
PC: Huffintonpost, India
Episode 2: Akshay Kumar and Twinkle Khanna
I wrote a separate post on this since there is very interesting behaviour which demand special analysis. You can read the post here.