Why Mary Kom refuses a handshake with Nikhat in the Olympics
In the recent Olympic Qualifiers of Mary Kom, we saw a different facet of the sports star. In the match which was against Nikhat Zareen, Mary won the match but what grabbed everyone's attention was how Mary refused to shake hands with Nikhat after winning the match.
This turned to be a point of controversy as doing a handshake is one of the ways to show respect towards your opponent.
Why handshakes matter
Handshakes form a crucial part of formal settings as they are a part of greetings done right in the start and end of meetings. When the handshake is proper, two parties feel a good connection with each other. This is why it is crucial, be it in business settings or otherwise, that parties exchange this handshake at the beginning and end of their interactions with each other.
When it comes to sports handshakes are a way of showing sportsmanship and as a mark of respect to your opponents. But what happens if the handshake doesn't happen in the right way?
Other Instances
Mary Kom is not the first sportsperson to refuse to acknowledge her opponent by not shaking her hands. Let's take a look at other instances where sports person have refused to do the post-match handshake.
In the Israeli Judoka match between Islam El Shehaby and Or Sasson. El Shehaby refused to do the traditional handshake after losing to Or Sasson which was considered as a breach of judo etiquette.
In another instance in the U.S. Open match between Maria Sakkari and Camila Giorgi. After losing the game Giorgi went past Sakkari and moved out of court without shaking hands with her opponent.
Why it happens
Not shaking hands could be one's way of refusing to want to build a connection with the opponent in any way. This is perhaps the case for Mary Kom.
Another reason could be due to emotional outbursts, resulting in the losing person being aggressive since they have lost the match which was depicted in the Henderson Tennis Open in Las Vegas. The match was between Sebov Katherine and Parks Alycia. After losing the match, Sepoy almost hit Parks.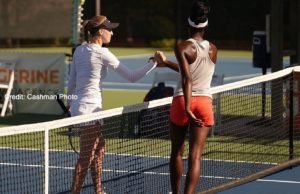 Have you seen other such instances of a no-handshake or a not-so-good handshake leading to misunderstanding or misjudgment? Next time, when you are meeting someone on a professional ground, don't forget the handshake – one at the beginning, and more importantly, one also at the end!
Written by,
Bhavna Suleria
This lockdown period, get exciting offers on our webinars to know more visit here
Image Courtesy:
nytimes.com

au.sports.yahoo.com

indianexpress.com

tennis.life