One of the recent events is the riot is happening in US currently over the death of George Floyd. Floyd died while he was pinned by police officers. Below in the image is Floyd while he was arrested.
This has led to widespread protest in one of the world's largest economy. There have been different facets of the riots that US is experiencing right now along with the COVID pandemic. This incident has not happened for the first time in US; the same happened with Eric Garner who also died while getting arrest in 2014 and list seems long.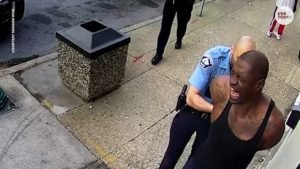 Cops arresting Floyd minutes before he was killed 
Our evolution has taught us to be automatically wired to deal with changes in our environment by either freezing, fleeing or fighting. Thus during riots the aggression that we see is fight taking the form of violence. In the current uncertain times, aggression is on the rise. What is more important is the manifestation of this aggression. In our normal working life we generally have more indirect ways of displaying our aggression. But when we experience extreme situations like riots, aggression takes a different form. 
Let's understand violence used by rioters while protesting from the body language perspective. We realise that this is not the first time that riots have taken place. Riots have been a part of humans for a long time. To give a brief about its origin, according to natural selection, there are 3 Rs which both humans and animals have for payback namely – Revenge, Retaliation and Redirected aggression. Revenge riots occur when people are hurt or injured. Retaliation riots occur over some laws passed or when one group is hurt like the one in US. Redirected aggression is when rioters damage everything regardless of its relation to the main reason. The below image of riots is an example of redirected aggression. 

Riot hit street of London
Thus violence becomes the focal point of any riot. When we were analysing images of riots worldwide what we observe is the startling similarity. This similarity exists regardless of the country, city or village. So be it a highly developed nation like US and UK or a developing nation like India or any undeveloped country riots happen in the exact same manner. Below we can see cops aiming at protesters. The image below that is of rioters in their full attacking form. 
       Cops aiming at people protesting in US over death of George Floyd 

Protesters protesting in Delhi, India over CAA Bill 
Cops detaining a man in London riots 2011
In riots what is normally seen as a directionless mass of people are planned actions which they are consciously aware of. Thus we see a leader emerging who initiates an action quickly followed by all. Be it while shouting slogans or getting charged for creating damages of public or private property or charging at cops. Above image of cops detaining one such rioter.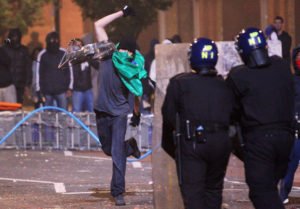 Protesters hurling objects at cops in London riots
Protesters damaging police vehicle during US riots 
How body language plays out in these situations when people are ready to perform an action? We observe that there is never a single individual but always a huge group. They take more space than they would normally take as seen in the above image of the protester when he is throwing objects at cops. In nonverbal communication it's called getting ready to attack and aggression which is clearly communicated through their entire body right from their face to their hand gestures like clenched fists or carrying weapons like guns or sticks. How the damage is done is depicted by the above image when rioters were damaging a police vehicle. These are used to damage everything that is ahead of them. Also hands are used while shouting slogans.
Protesters damaging vehicles in US riots  

In body language legs also play a crucial role.  Either through a quick sprint which is required when police comes to either catch them or make them go away. Other roles of feet include doing damage when hands are not enough as shown in the above image of rioters. If you body language of rioters when they are about to throw either stones or bomb firstly they their hands are hidden behind they move a bit back the gap between feet is huge for stability and then they throw with full force so that it reaches their target.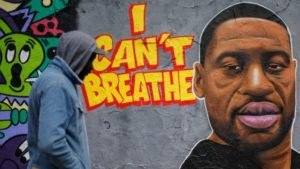 Graffiti of George Flyod by protesters  

Now we will be exploring Nonverbal appeal which in nonverbal communication are those things which speak about an individual when they are not around. In riots these are things that people do either to get associated with riots or blend in completely by losing their individual identity. For this they wear masks which not only hide their individual identity and propagate that they are one by creating uniformity and anonymity. In recent protest we have seen people wearing masks of the recent famous movie Joker clearly influenced by the character as depicted in the below image. 

People wearing mask at various places like Chile, Iraq, Lebanon 
They also use graffiti and posters. A means of communicating what  nonverbally. An example of this is shown in the above graffiti of Flyod. 
Other means of nonverbal appeal consists of damaging both public and private property giving a clear message of what they want. These needs can anything like to stop racism and discrimination in US currently or due to protest against the rulers as in the case of Egypt when Hosni Mubarak was the President or over some bill or law passed like in India. What we see are the primary urge of aggression coming to the fore and damaging whatever come under its path and making sure their message is reached clearly to everyone concerned. 
References
We are grateful to USA today, BBC, the Conversation, Outlook India, Boston.com